Cameron is the cool-cat, bass-playing maniac that currently supplies the bottom end for the RJP (not to mention a little sanity in the midst of the chaos!). What a great bottom it is too-- he gets at least three compliments per show about how hot it is! (Oh wait, or was that for the hair??) Well, it wasn't always so.... before he joined RJP and had the benefit of Rich's killer fashion sense, Cameron was, well, downright f-ugly. Here's a high school picture to prove it!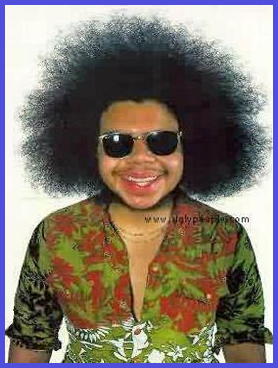 Its a wonder what clothes can do for a guy, huh?
Currently, Cameron is excelling at his new job where he is putting his Psychology degree to good use. Its not every Phone Sex Operator who gets three gold stars and his own parking space in his first month! We're so proud. And he's not letting any of the new found riches and fame go to his head -- well other than the occasional international trip to Milan, Armanti suit purchase, or beach party for 100 of his closest friends (who knew his friends were all Hawiian Tropics girls??? Funny how that happens) Anyway, if you have a spare hour or two and want to hear for yourself, Just call 1-900-ALL-MALE and ask for Barry!!!